Jim Langley Exhibit & Show:  Jim Langley is the Leeds Arts Council's featured artist in August. The public is invited to his opening reception and one-man show on Sunday, August 6, 2017 at 1:30-3:30 PM. Admission is free.
Jim Langley Exhibit & Show
The show will feature the art and storytelling of former Leeds resident, Jim Langley. Many of his paintings depict scenes and personalities from the Leeds and Birmingham area including the Alabama Theater; area churches, businesses, historic buildings, and houses; and personalities such as Charles Barkley and Harry the Hat. Proceeds from sales and donations will benefit the Leeds Art Council as well as Day Camp Scholarships for disadvantaged children at YMCA Camp Hargis.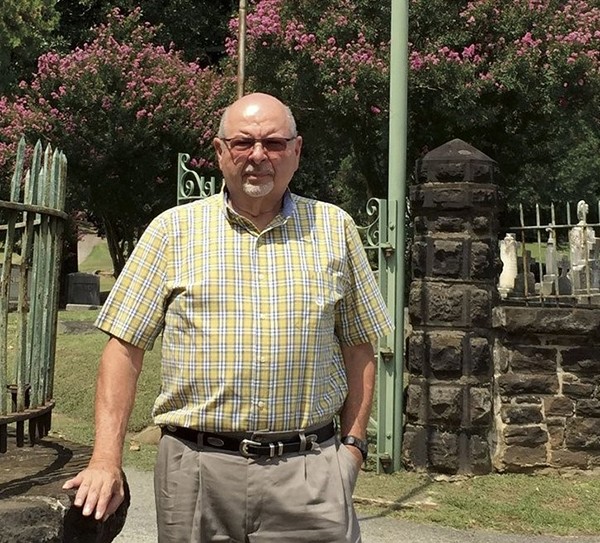 The Delmont Show is a 30-minute "pure-dee Alabama" performance based on Langley's book, Delmont's Slang Blade: 1000 of the Best Sayings in the State of Alabama. Jim's interest in southern sayings started many years ago and the book contains a portion of his collection. Langley contends that everyone needs to have a favorite southern saying in their back pocket to pull out and use on the proper occasion. Quips include such as "The more people I meet, the more I like my dog," or "Smiling like a dead pig in sunshine." Come let Delmont tell you what that one means!
Mr. Langley, originally from Vernon in Lamar Co., AL, is now a resident of Hoover. He is married to the former Ann Whitehead of Nashville, TN. Jim graduated from Jacksonville State University with a degree in Political Science and from the University of Oklahoma with a Master's in Public Administration. He was a Distinguished Military Graduate receiving an Army commission in 1971, and served active duty tours in Alaska, Fort Sill OK, and Korea, before retiring as a Lieutenant Colonel in the US Army Reserves.
Jim Langley Exhibit & Show
During his civilian career, Mr. Langley spent 15 years with BellSouth Communications and had shorter professional associations with Dowzer Electric, SITEL, DES, and AIDS Alabama. In retirement, Langley has become a prolific writer, artist, and storyteller. He is well known for his book about Oak Hill, the oldest cemetery in Birmingham, and his walking tours of the cemetery. He has also led many trips and tours for Hoover Seniors in recent years including local history tours in Birmingham and Hoover, tours of important places in our local Civil Rights history, and tours of Red Mountain Park. For more information, visit www.Langley.Rocks
Mr. Langley's paintings will be on exhibit through September 8, 2017.
The Arts Center is located at 8140 Parkway Drive, in downtown Leeds. The gallery is open on Fridays and during events. In case of inclement weather, call the center at 205-699-1892 to confirm opening hours.
This message is brought to you by the Leeds Area Chamber of Commerce. For more information about Leeds, Alabama, the Leeds Area Chamber of Commerce and how the Chamber can support your business, please contact Sandra McGuire, Executive Director, at 205.699.5001 or Sandra@LeedsAreaChamber.com.