Leeds, Al- The Leeds Area Chamber of Commerce announces their Annual Leeds Downtown Trick r' Treat scheduled for Halloween afternoon – Friday, October 31, 2014 from 3:00 PM to 5:00 PM.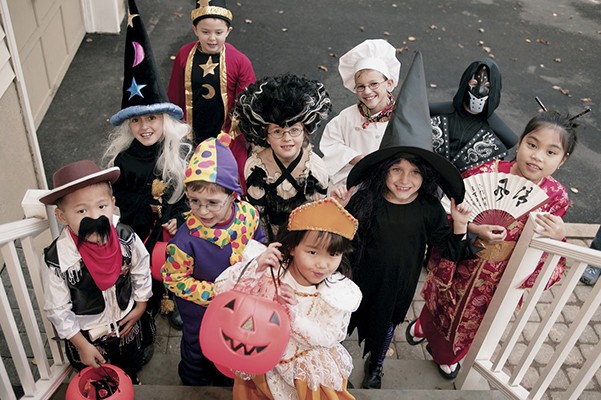 Many Downtown Businesses and other local businesses plan to participate by providing candy to the children between these hours to provide a safe environment for kids to Trick r' Treat.
The area designated for this event is directly on the Parkway from Sonic through downtown Leeds to the last red light at the corner of the gazebo and Leeds Theatre and Arts Center.
This has proven to be a fun time for all of the children who participate so please mark your calendars to be part of this exciting event.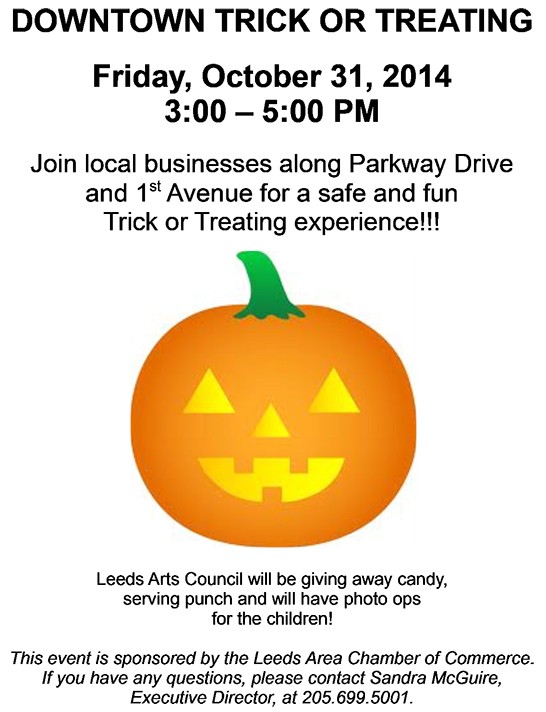 Companies who are located directly on the Parkway between these landmarks will set up in front of their business. Those who are not located directly on the Parkway will be designated an area to set up. You do not have to be a Chamber Member or located in the downtown area to participate, but registration is required through the Chamber to coordinate.
Here is a list of the Participating Businesses and locations for Downtown Trick or Treat:
Leeds Downtown Trick or Treating 2014:
PARKWAY DRIVE
Sonic Drive-In
P.T. Orthodontic
Leeds First United Methodist Church
State Farm – Pellowski Agency (front of chamber office)
Leeds Area Chamber of Commerce
Curves (in front of Whitfield Law Firm, beside chamber)
Leeds Family Eye Care
BBVA Bank
Leeds Family Chiropractic (corner beside Pants Store)
Pants Store
Bud's Place
Region's Bank
Lehigh (corner of Top Notch Catering)
Top Notch Catering
Barnes & Barnes
Bancorp (next door to Barnes Law office)
Koplan Dental
R.E.Ohnich Accounting Firm (corner across from Arts Council)
Leeds Chevron
Standard Furniture
Michelle Davis Dental
Farmer's – Brad Pool Agency
J Huggins Realty
The Red Barn (across from Chamber office)
Chick-fil-A (in front of Covenant Bank annex)
Covenant Bank
Outlet Shops of Grand River (corner across from Pants Store)
Peggy's Barber Shop
Massey Stotser & Nichols
The Monkey's Uncle
Office Lounge
Leeds City Schools (vacant corner across from Regions Bank)
Leeds Jane Culbreth Library
M & M Tax & Accounting
Curtis White Company
Carl Ann Florist and Gifts
Leeds Arts Council – Candy, Punch & Photo Ops
Alabama Power Company (corner next to Arts Council)
1ST AVENUE
McKinnon Pharmacy
Cost Plus 10 Food Market
Service Master Disaster Response
9th STREET
Kut Ups
LA Salon, Flowers & Boutique
Click Here to Download a Copy of the Downtown Trick or Treat Business List
If you have a business who would like to participate or would like more information about the Leeds Area Chamber of Commerce, please contact Sandra McGuire, Executive Director, at 205.699.5001 or sandra@LeedsAreaChamber.com.
This message is brought to you by the Leeds Area Chamber of Commerce, Leeds, Alabama. For more information about the Chamber and how the Chamber can help you promote your business or event, please contact Sandra McGuire, Executive Director, at 205.699.5001.