The Leeds Area Chamber of Commerce sponsors Downtown Trick-or-Treat each year for Halloween.
Downtown Businesses and Chamber Members are encouraged to participate and this is a fun-filled way to showcase your business and give back to the community.
The Downtown Trick-or-Treat is held on Halloween Day each year from 3:00 – 5:00 p.m.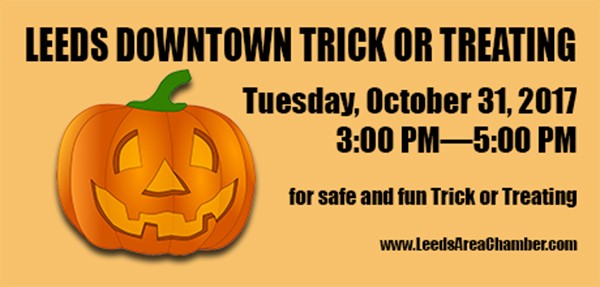 You may contact Sandra McGuire, Executive Director, at 205.699.5001 or Sandra@LeedsAreaChamber.com to sign up if you are a business who desires to participate and for area residents who have children who would like to visit Downtown Trick-or-Treat, please plan to visit Downtown Leeds between 3:00 PM and 5:00 PM.
There is no charge to participate with this event.  If you are a participating vendor, please bring LOTS of candy!!!
Below is information on past events:
View Leeds Downtown Trick or Treat 2016 Photos on Facebook
View Leeds Downtown Trick or Treat 2014 Blog Post with Press Release and Photos
Save
Save
Save
Save