Meet Karla Shackleford Conway Featured Artist:  Karla is the Leeds Arts Council's featured artist in May. The public is invited to the opening reception on May 7, 2017, 1:30-3:30 pm, to view her delightful paintings. Admission is free.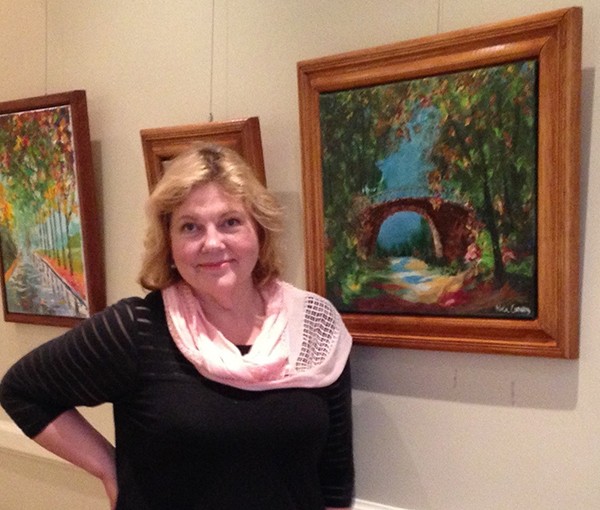 Karla is a native of Birmingham who now lives in Lincoln, Alabama, on Lake Logan Martin. After a long career in advertising and public relations, where she particularly enjoyed the design and graphics side of the business, she took a one-time acrylic painting class. The next day, she bought a package of canvasses and a starter set of paints and has been painting ever since.
Meet Karla Shackleford Conway Featured Artist
Since 2010, Karla has taken classes from local artists and from well-known Maine landscape artist Tim Gagnon. But mostly she has painted on her own, watching videos on specific techniques and studying the works of the painters she most admires.
While she constantly experiments with different subjects and styles, Karla's favorite subject is birds, which became a fascination of hers when she moved to Lake Logan Martin.
In 2015, she retired from fundraising and promotion with the Presbyterian Home for Children in Talladega. In retirement, Karla regularly leads painting workshops to benefit the Pell City Christian Love Pantry, a food resource founded by St. Simon Peter Episcopal Church which hosts the painting classes.
Ms. Conway's paintings will be on exhibit through June 3, 2017. For more information, please visit her website at www.studiokarla.com
The Arts Center is located at 8140 Parkway Drive, in downtown Leeds. The gallery is open during events. In case of inclement weather, call the center at 205-699-1892 to confirm opening hours.
This message is brought to you by the Leeds Area Chamber of Commerce. For more information about Leeds, Alabama, the Leeds Area Chamber of Commerce and how the Chamber can support your business, please contact Sandra McGuire, Executive Director, at 205.699.5001 or Sandra@LeedsAreaChamber.com.