FOR IMMEDIATE RELEASE – March 27, 2017
Contact Information
Donnell & Kevon S. Lewis, Owners Nelchie's Cajun 1621 Ashville Rd
Nelchie's Cajun Receives National Recognition as American Small Business Champion by SCORE
Leeds, Alabama─ Local business Nelchie's Cajun has been chosen as a winner of The 2017 American Small Business Championship hosted by SCORE, the nation's largest network of volunteer, expert business mentors, and generously supported by Sam's Club, a leading U.S. membership club serving small businesses since 1983. The Championship awarded this title to 102 entrepreneurs for their dedication to the success of their small businesses. The American Small Business Champions will each receive a $1,000 Sam's Club gift card, an all-expense-paid trip to a training and networking event, SCORE mentoring and publicity throughout the year.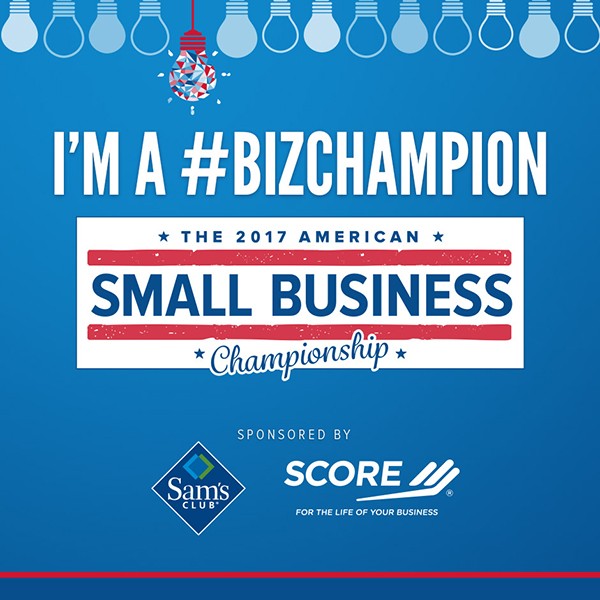 Nelchie's Cajun earned the title of American Small Business Champion by submitting an online application describing the most unique aspect of their small business that has contributed to their success, their positive impact on the community, and their plans to use the prizes to grow their business. Nominations which garnered at least 100 votes were then presented to a judging panel of small business experts that determined 102 winners including Nelchie's Cajun.
Nelchie's Cajun Receives National Recognition
As business owners, some of the challenges we've had to overcome were getting the proper permits and licensing's to be fully operational, now the challenges that we will overcome are advertising, marketing, and becoming a household name in serving authentic New Orleans Cajun cuisine.
One of our greatest accomplishments achieved thus far has been the recognition as an American Small Business Champion by SCORE. We believe this accomplishment will help provide our business with endless opportunities towards the success and growth of Nelchie's Cajun.
What makes Nelchie's Cajun standout – we offer the best authentic New Orleans Cajun cuisine experience without leaving Alabama. The food portions are great, friendly southern service with a smile, and an atmosphere for adult and family dining. We also offer event hosting for private or semi-privste parties, live music, line dancing and comedy showcase.
Five (5) years ago, Nelchie's Cajun was only a thought in our minds, fast forward to 2014, Nelchie's Cajun became a reality. It has been and still is a learning process to be a successful business owner. Tough economic times especially during the Christmas holiday and dealing with family medical issues had left the business struggling to stay cash positive. But owners Donnell & Kevon S. Lewis were committed to keeping their family business alive and invested all of their time and effort in revitalizing their operations.
Today, the business is becoming more prosperous. We have been open for 7 ½ months and we are a family owned and operated restaurant. We are gradually becoming a household name in the Leeds community. In 2015, Nelchie's Cajun catered a 50-party wedding as a donation and in October 2016 we gave out 200 plus bags of Halloween candy to the local children in Leeds.
Winner quote – "Having to overcome the many challenges and obstacles you face as a business owner, Nelchie's Cajun is grateful to receive this recognition. We have invested a lot of time, money, sweat, tears and love into our business. Thank you to our family, friends, the local and online community for supporting us and helping us to succeed. This would not have been possible without you." says Kevon Lewis, owner of Nelchie's Cajun.
Nelchie's Cajun Receives National Recognition
"SCORE is very pleased to honor the hard work and accomplishments of these 102 small business owners. They come from all across the United States, and provide diverse products and services for their clients, but all share in their dedication to making their dreams a reality," said SCORE CEO Ken Yancey. "It is our pleasure to provide the mentoring, tools and resources that will help them continue to grow their businesses and enhance the communities they serve."
"At Sam's Club, we proudly support and celebrate the unique experience of the small business owner," said Tracey D. Brown, senior vice president of operations and chief experience officer at Sam's Club. "We are inspired daily by their ability to navigate challenges and triumphs on the road to success. And now, hopefully, the rest of the nation will be, too, as they get to know some of the nation's most promising small business owners."
Nelchie's Cajun is also eligible to win one of three additional $25,000 grand prizes by being named Grand Champion. A judging panel of small business experts will select three Grand Champion from the group of Small Business Champions this summer. Selection is based on how effectively Champions utilize the Sam's Club gift card and the SCORE regional training events to grow business revenue, as well as how effectively the winners promoted the Championship in the media and social media.
To learn more about The American Small Business Championship and to view the complete list of Champions, visit www.championship.score.org.
About SCORE
Since 1964, SCORE has helped more than 10 million aspiring entrepreneurs. Each year, SCORE's 10,000+ volunteer business experts provide more than 350,000 free small business mentoring sessions, workshops and educational services to clients in 300 chapters nationwide. In 2016, SCORE mentors volunteered 2.2 million hours to help create more than 130,000 jobs and 54,000 small businesses.
For more information about starting or operating a small business, call 1-800-634-0245 for the SCORE chapter nearest you, or visit www.score.org. Follow @SCOREMentors on Facebook and Twitter for news and updates on the small business landscape.
About Sam's Club
Sam's Club, a leading U.S. membership club, offers savings and surprises to millions of members in 659 U.S. club locations and at SamsClub.com. The Sam's Club Giving Program, established by the Walmart Foundation in 2008, is dedicated to micro- and small business prosperity.  Sam's Club and The Sam's Club Giving Program have invested more than $28 million since 2011 in national and local programs dedicated to improved training, education and increased access to capital for small business owners. For more information on national or local giving by Sam's Club or The Sam's Club Giving Program, visit http://corporate.samsclub.com/giving.
This message is brought to you by the Leeds Area Chamber of Commerce. For more information about Leeds, Alabama, the Leeds Area Chamber of Commerce and how the Chamber can support your business, please contact Sandra McGuire, Executive Director, at 205.699.5001 or Sandra@LeedsAreaChamber.com.